I just got off the phone with AT & T. I broke down and got a new Iphone plan for Rivet and wanted it to be ready to go for blogging while on this upcoming adventure. It's harsh to have a contract, but I digress, this Sunday I depart for 2.5 weeks of cycling from Kashgar, China to Dushanbe, Tajikistan. The woman at AT & T couldn't spell Tajikistan (it's spelled the way it sounds!) but no matter, there is no service where I am going.
I am headed to Kashgar to access the Pamir Highway, one of the longest continuous roads above 10,000′ in the world. I am meeting a friend and together we will be in the capable hands of the Tour d'Afrique organizers. Of course, I am taking a new Rivet saddle with me, but will also be test-riding a new Allegro T-1. Allegro custom bicycles are designed in Australia by Richard Ayling (who made his fame as a track rider and coach of a much younger, Cadel Evans, and as an elite archer). My T-1 is equipped with SRAM Apex, new Handspun wheels (Ultegra hubs on Velocity A23 hoops) with Schwalbe Marathon Plus tires (38's!) and loaded with an Arkel rack and bag. A Timbuk2 food and camera "bento box" are on the handlebars. Richard said, "Take the T-1 and really put it to test. Give it a good go and if you need to leave it in Eastern Asia, then do it." Sounds good to me, but I also know that when I get attached to a bike – either from doing the build, or through our wild adventures together – it's hard to leave it on the side of the road. Hey, I'm like that guy who just rode across Asia followed by a dog and he ended up taking the pooch home!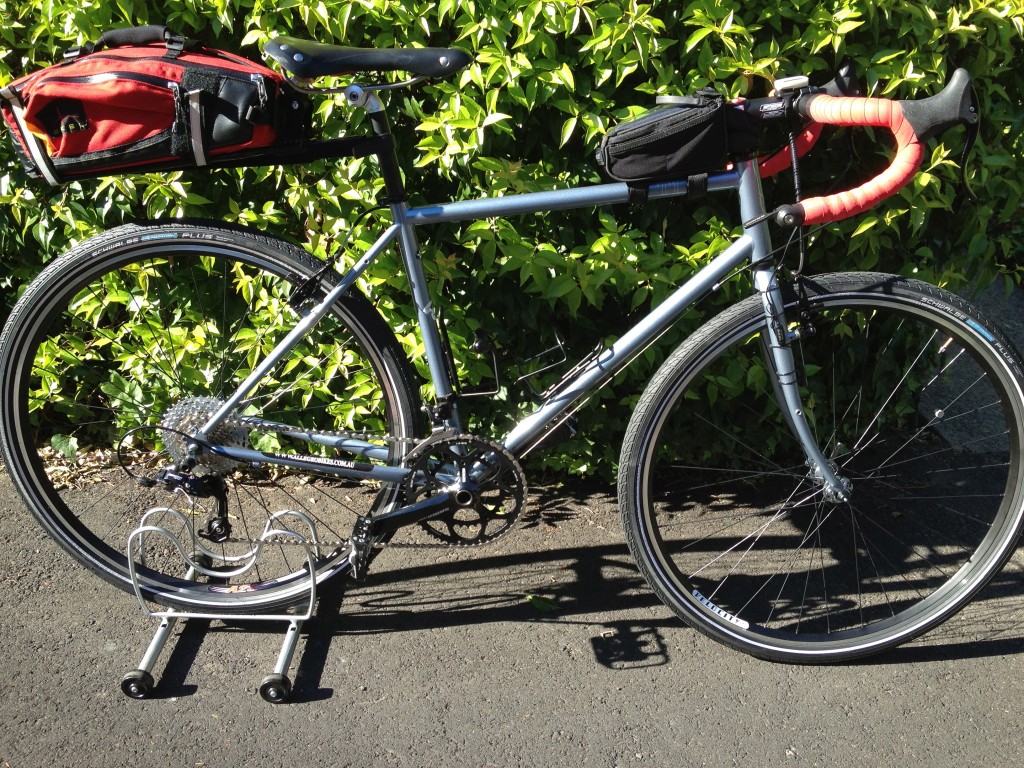 We will be camping most nights punctuated by a few nights in a hotel. That's where warm(er) showers may prevail. Our personal stuff will be moved along in a larger vehicle, we need only our daily gear to cover the 50-60 miles of mixed terrain roads and dirt at elevation. My hope is to ride, enjoy all that the environs have to offer (sans stomach issues), take pictures and for the first time, keep a running blog of the adventure. I will also be carrying a Spot connector, which I think enables others to watch my progress across the terrain. It's also good as a SOS if I need one (hoping not).
Rivet will remain open, but with very limited email. So, if you are ready to buy one – DO IT NOW! Will be filling orders through July 6, and then will continue to do so catch as catch can until August 1.